Get a head start in Term 4 with Pre-Uni New College
14-Sep-2019 | 8:03 AM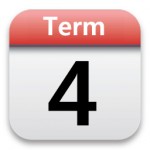 Pre-Uni New College Term 4 course will start from Saturday, 12th October
.
The Term 4 course has been structured to accommodate the
academic standards expected of students
who will sit for the 2020 OC and selective h
igh school placement and private school scholarship tests.
I
n addition to having the advantage of getting ahead,
we will put focus on
improving r
eading comprehension,
general ability and mathematical skills
to help maximise
their test marks.
Please check out the term 4 newsletter link below.